ETHS Booster Club Scholarships
Four $1,000 Booster Scholarship awards are presented annually to four graduating senior students who have a minimum seventh semester 3.0 cumulative GPA, have participated in at least two Boosters-supported extracurricular activities during at least three years at ETHS, and can show documented evidence of community service throughout their high school career. All student applications for the ETHS Scholarships are read and scored by a panel of 12 ETHS retirees (teachers, counselors, administrators). They are scored objectively according to scholarship scoring rubrics. The high scorers are forwarded to the Selection Committee which is comprised of 5-6 outside judges (college admissions professionals) who select the recipients. Class of 2022 Boosters scholarship awards were presented at the (virtual) Senior Scholarships Night on May 11:
| Winner | Award | Amount |
| --- | --- | --- |
| Sofia Castro | ETHS Boosters Award | $1,000 |
| Sophie Lammers | ETHS Boosters Award | $1,000 |
| John Leibforth | ETHS Boosters Scholarship | $1,000 |
| Tami Schneiderman | ETHS Boosters Scholarship | $1,000 |
Congratulations to these outstanding Wildkits.
Thank you to everyone who nominated a teacher, coach or staff member for the 2021-2022 Crystal E Award. Our winner will be announced in the fall, at the beginning of the new school year.
Tim Fodor is the 2020-2021 Crystal 'E' Award winner.
Tim has been the assistant boys water polo coach at ETHS for the past three seasons. He embodies the ideals of the Crystal 'E.' "Winning the award as an assistant coach shows that you don't have to be a head coach to make a meaningful positive impact on the team," said Tim. An ETHS alum (2006), Tim played varsity water polo all four of his Wildkit years under current head coach, Kevin Auger. Tim led his team to ETHS' first water polo state tournament in 2004-2005, earning a third place state finish. Tim was named team MVP the following season as a senior. Tim joins his father, Dr. David Fodor, as a Crystal 'E' award winner. Dr. Fodor won twice (2006 and 2012) in recognition of building a robust music program as the director of bands at ETHS.

This isn't his main job and he still puts so much time and effort into his work at Evanston. He is a great coach and an even greater man. – ETHS boys water polo player
I could easily see his passion for the game and helping us better understand and grow our own passions for the game. Tim regularly pulls people aside for one on one coaching during practice to give them specific instruction. He also sends out notes before games to help us strategize and remember key plays and moves. Tim also likes to have fun with the team and get in on our inside jokes and always has a smile on his face … Tim is always there for the team whether we have something on our minds whether it relates to polo or not. I could not ask for a better coach and hope that he is recognized for his outstanding work ethic and care for our team. – ETHS boys water polo player

As an alumni of both ETHS and its water polo team, he brings experience of the sport and social life to me and the team. He's helped coach us to play at the next level, that has helped us compete with any team. He has exceeded all of our expectations as the type of coach we were getting 3 years ago, and continually adds to that. – ETHS boys water polo player

He has his priorities straight, as in he cares about all of us players as individuals, but has a competitive mindset, and won't hesitate to tell us if we are wrong. I respect him greatly and I only wish that more people are able to hear of the impact he has had on me and this team that I care so greatly about. – ETHS boys water polo player

Tim is the ultimate example of a leader who inspires, challenges, uplifts, and supports his student athletes…every single minute. He is calm, patient, strategic, competitive, kind and funny! My son and his teammates constantly acknowledge the outstanding skills and motivating disposition of Coach Tim. He's helped improve the program at ETHS and his coaching skills are an asset to the entire ETHS student athlete family and the ETHS community at large. Tim never loses his patience, he has hope for each individual athlete, and the student athletes believe in him and trust his instincts and advice. My son was excited about practices and games because of Tim. He is the definition of "Not for oneself, but for one's own" and for that we are eternally grateful and hope that you will recognize Tim with the Booster Club Crystal 'E' Award this year. Go 'Kits!! — ETHS boys water polo parent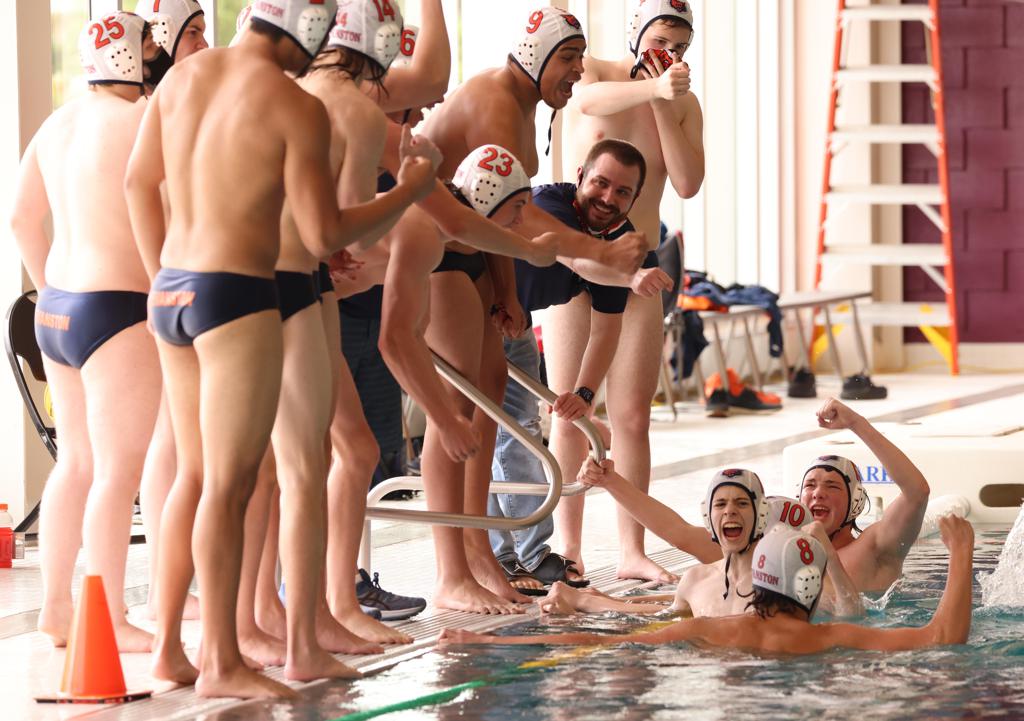 Past Crystal 'E' Award Winners:
2020 Gedeon Yitref
2019 Andrew Miner
2018 Matt Bufis
2017 Jennifer Weber
2016 Jeff Hannah
2015 Matt Moran
2014 Pam McPherson
2014 Kiril Mirintchev
2013 Tom Doan
OTHER ITEMS SPONSORED BY THE ETHS BOOSTER CLUB
ETHS Senior Sports Award Banquet
ETHS Boosters underwrites part of the cost of the annual Senior Sports banquet and awards ceremony, which takes place in June. Booster volunteers help with set-up, check-in and clean up for the event, which features a sit-down dinner for the athletes, their parents, and coaches.
Spirit Projects
ETHS Boosters purchases spirit-building favors, like clappers and hats, and distributes them at Homecoming and other fall and winter games.